2/3/4 YEAR EARLY EDUCATION FUNDiNG
Is your family entitled to free 2 Year Early Education funding?
Click here to view and download a reader-friendly booklet,
to help you understand about Free Early Education for Two Year Olds at an important time in your child's development.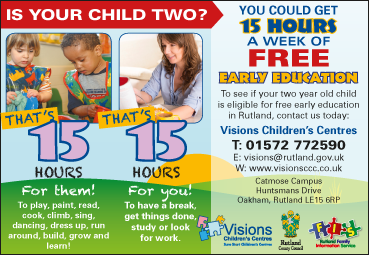 Information is available from the Gov.uk website regarding free childcare and education for 2 to 4 year olds here
If you believe you are eligible for 2 Year Early Education funding, you must apply via Visions Children's Centre.
You can find out if you are eligible for funding by contacting Visions Children's Centre on 01572 758383 or email visions@rutland.gov.uk and asking for an application form or download a copy, below. Once completed, please return it to Visions Children's Centre, Catmos Street, Oakham, Rutland, LE15 6HW.
For information on eligibility, click here
To download the 2 Year Early Education funding application form, click here

The Family and Childcare Trust have developed a new film for parents, aiming to help identify what a good childcare setting should be like.
Visit http://www.familyandchildcaretrust.org/choosing-childcare to access the film and further information.